Carol Stream Location
Our main location in Carol Stream, IL  (Close to Wheaton, Glen Ellyn, Winfield, Bloomingdale, West Chicago)
---
ForwardFit
26W535 St. Charles Rd. Unit B
Carol Stream, IL 60188
(Right behind Dick Pond Athletics)
Do you want to be a part of this contagious atmosphere that each ForwardFit class brings?
Join us for exciting and different training methods that will never leave you bored, with Kettlebell, TRX, Circuit Training, Boxing and more.  This is the future of fitness and should be a part of your training.  Stop wasting your gym hours walking on the treadmill when you can be flipping tires and climbing ropes with a group of inspired people.  At the end of the day, it's all about results.  And ForwardFit is here to bring it to you now!
The format of the studio is based on large group classes (6-20 people), with additional training such as semi-private (2-6 people) and private training (1-person) also available.
Class Descriptions:
Fitness Boxing
ForwardFit Boxing is a favorite among clients. Learn how to punch, dodge and fight your way through this workout. You will need a pair of boxing gloves for this class as we hit the heavy bag and focus mitts. Get ready to bring the intensity and knock out your stress.   Learn more >>
Metabolic Circuit Training
Train in a group setting using some of the same tools seen on "The Biggest Loser," such as kettlebells, ropes and more.
Participants are burning 500 to over 1,000 calories in each class.   Learn more >>
TRX Suspension Training
This total body workout challenges every inch of your body by using suspension training and taking it to a new level. You will be toned and sculpted in no time.   Learn more >>
Core Strength
This is a strength based class that focuses on strengthening your total body. In this class you will be working on flexibility, torso development, injury prevention and full body strength. The movements you will learn will range from beginner all the way to advance strength.
Tabata
Tabata is the most result-driven form of HIIT (High Intensity Interval Training). In this class you will push yourself to the max and get fit head to toe by completing various drills at specific work-rest ratios.  Learn more >>
Obstacle Course Race (O.C.R.) Training
Obstacle Course Racing Training Class (O.C.R.) will prepare you for the Spartan Race, Mud Runner and others.  Learn more >>
How much?
As you can see above we have offered many options, so you have no more excuses. Training can be as low as $4 per session, depending on how often you go. As ForwardFit continues to grow, we hope to start offering even more classes.
Check out the pricing sheet below to see for yourself.
---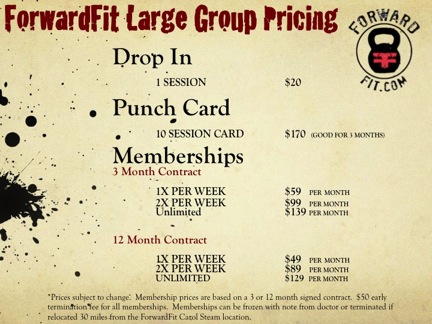 Semi-Private Training  (2-6 people)
Drop in – $35
10 sessions – $330
20 session – $600
Personal Training
Drop in $70
10 sessions – $650
20 session – $1,200
Semi-private and personal training sessions are scheduled. Contact us for availability.
Registering for Class
Registering for class is easy!  If you have a smart phone you can download the Mindbody connect app.  Put ForwardFit as your favorite and pick the class you want to attend.  It's as easy as that!  If you don't have a smart phone, no problem, click on this link and register by picking your class.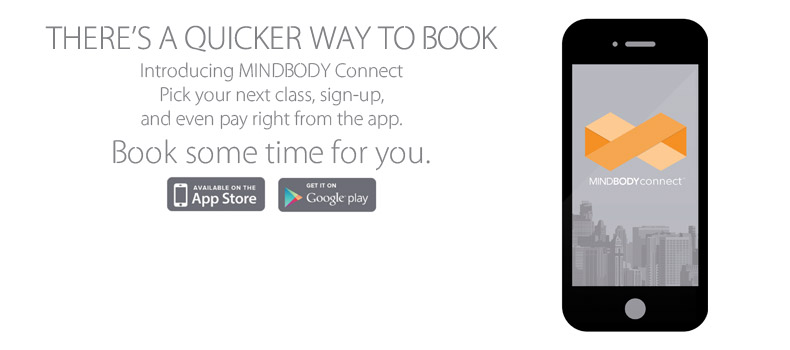 Classes with the "HL" label are at our Highland Landmark location. All other classes are at our Carol Stream location. If you have any questions please ask our trainers to help or call 630-660-7783.
This sounds great, how do I sign up?

Thank you for asking!  And thanks for your interest and excitement for our future.  We want to be your partner in improving your life.  Just come on in.
Sign Up Today!