Services
ForwardFit offers a variety of classes to fit your needs and schedule. Scroll below to view our options for Large Group Classes, Semi-Private Training, Personal Training, Shed To Wed and Massage.
Large Group Classes:
ForwardFit Boxing is a favorite among clients. Learn how to punch, dodge and fight your way through this workout. You will need a pair of boxing gloves for this class as we hit the heavy bag and focus mitts. Get ready to bring the intensity and knock out your stress.   Learn more >>
Train in a group setting using some of the same tools seen on "The Biggest Loser," such as kettlebells, ropes and more.
Participants are burning 500 to over 1,000 calories in each class.   Learn more >>
Kettlebell Bootcamp
Utilize the ancient kettlebell in an intense group training setting. Learn the techniques of powerful swings, snatches, Turkish Getups and more. This class will leave you feeling worked in areas you never knew you had.   Learn more >>
TRX Suspension Training
This total body workout challenges every inch of your body by using suspension training and taking it to a new level. You will be toned and sculpted in no time.  Learn more >>
FF Challenge Class
This is our most difficult class. Participants will be tested with extreme fitness challenges usually based on time or rounds. Try and be the first to finish, push yourself to be the best! Based on the "Workout Challenge of the Month"
Core Strength
This is a strength based class that focuses on strengthening your total body. In this class you will be working on flexibility, torso development, injury prevention and full body strength. The movements you will learn will range from beginner all the way to advance strength.
Vinyasa Yoga Literally translated as "breath-synchronized movement," Vinyasa Yoga consists of a sequence of fluid-like transitions between sustained postures. The class is designed for yogis that are looking for a physically challenging yoga session consisting of equal doses of movement and strength-building stillness.   Learn more >>
Power Pump
Power Pump is a 60 minute workout that aims to strengthen your entire body using exercises such as squats, presses, lifts, and curls. A barbell with light to moderate weight is paired with high repetitions to create a resistance training effect. All of your major muscle groups will be challenged through movements choreographed to great music. Power Pump will help burn fat, increase strength, and produce lean body muscle.  Learn more >>
Tabata
Tabata is the most result-driven form of HIIT (High Intensity Interval Training). In this class you will push yourself to the max and get fit head to toe by completing various drills at specific work-rest ratios.  Learn more >>
Semi Private Training (2-6 people)
Share the cost of a trainer with semi-private group training.  Each training package includes body fat testing, measurements, nutrition discussion and assessments. Train with your personalized workout program that will be sure to get you amazing results.
Learn More…
Personal Training
Fully-customized training and personal attention to help you reach your fitness goals. Each training package includes body fat testing, measurements, nutrition discussion and assessments.
Learn More…
Massage
Massage helps you reach your fitness goals by restoring muscle elasticity and promoting recovery. It encourages blood flow and helps flush waste products out of your muscles. See what a ForwardFit massage can do for you.
Learn More…
Shed to Wed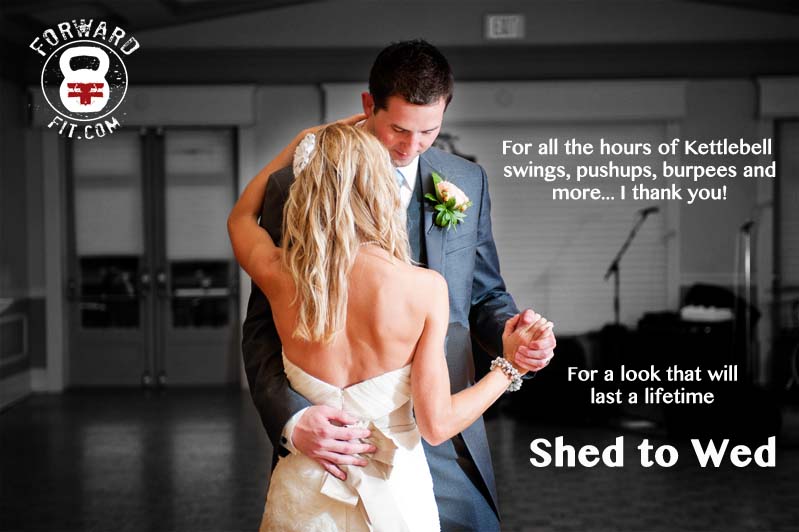 Our goal is to get you in the greatest shape of your life for the most memorable day of your life.
Learn More…