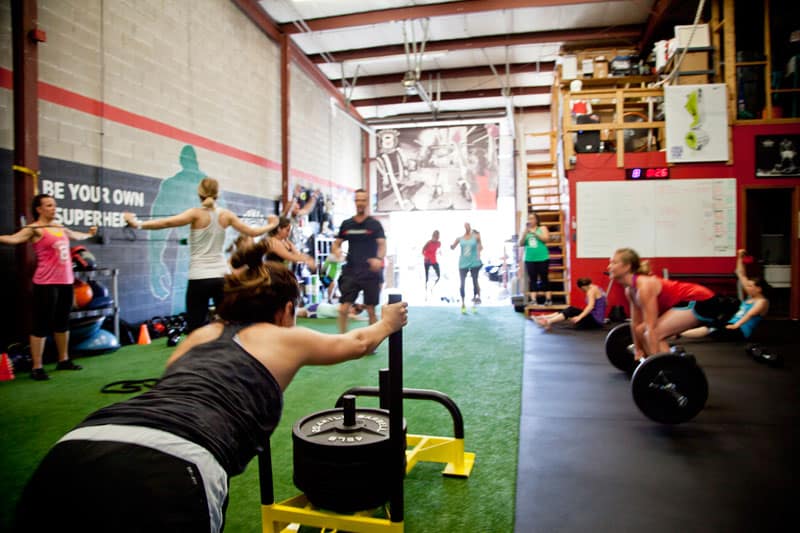 Programs
ForwardFit offers a variety of classes to fit your needs and schedule. Scroll below to view our options for Large Group Classes, Semi-Private Training, Personal Training and Massage.
Book Your Class Today!
Large Group Classes:
It's illegal to hit people that irritate you so why not release your frustrations on a heavy bag and burn some calories with Fitness Boxing Plus! A high-tempo workout with a focus on boxing. The Plus can include body weight exercises, kettlebells, plyometrics, and plenty of sweat. The music is upbeat, and everyone has fun. You will learn the fundamentals of punching, footwork, and slipping punches while improving muscular endurance and cardiovascular health. If you like your workouts fun, but challenging then you should try Fitness Boxing Plus. This is always a popular class at ForwardFit.   Learn more >>
The ForwardFit HIIT program will push your fitness levels like nothing you have ever done. The workout is designed to jack your heartrate and ramp up your metabolism. High intensity training can produce a caloric burn for up to 36 hours! Our HIIT program will burn anywhere from 500 to 1000 calories in less than an hour. Aside from a great caloric burn you will experience an increase in work capacity, higher degrees of energy throughout the day, greater strength and speed along with improved confidence. If you are looking for a challenge then this is the class for you.   Learn more >>
TRX Suspension Training
Suspension training involves using your body weight with specialized, handled straps called TRX. Built on a foundation of 7 different movements that will help you improve flexibility and core strength. The special design of the TRX will allow you to control the level of body-weight resistance making this a perfect workout for all fitness and skill levels. The ForwardFit TRX Suspension Training will help you tone and tighten all areas of your body.   Learn more >>
SPEAR (Strength, Power, Endurance, Aerobic capacity, Resiliency)
ForwardFit's SPEAR training encompasses several different training modalities to address multiple factors that impact overall fitness and body composition. The workouts are designed around compound movements and work all parts of the body in functional ways. There are no treadmills or machines. If you are looking to get stronger, add lean muscle, reduce body fat, and help insulate yourself from injuries then SPEAR is for you. You will love the way your body feels and without a doubt you will enjoy watching your clothes get looser as your body composition changes. If you aren't happy with how you look and feel, stop wishing for change and work for it with SPEAR. Looking to prepare for Spartan or Tough Mudder? SPEAR. Upcoming wedding? SPEAR. Clothes not fitting? SPEAR. Tired of a boring, ineffective workout at Globo Gym? SPEAR. This is the superhero of workouts and will make you faster, stronger, leaner, and healthier!     Learn more >>
Skills and Fundamentals
Everyone can use time to refine their workout skills, and there isn't a coach around that doesn't preach fundamentals. This class provides time for refining technique and ensuring proper mechanics. It is also the perfect class for anyone new to ForwardFit and our training philosophies. Our coaches are on-hand and accessible to help teach, critique and motivate. If you are thinking about joining or you're a long-time member, this is a class you won't want to miss.     Learn more >>
Total Body Tabata
Tabata training was developed by Dr. Izumi Tabata in Japan while working with Olympic athletes. The principles developed through Dr. Tabata's research involve improved aerobic and anaerobic conditioning through 4-minute intervals of 20 seconds of all-out work followed by 10 seconds of recovery. These principles are put to the test during ForwardFit's Total Body Tabata. Members will perform Tabata intervals at max effort throughout the workout that will engage every part of the body. Make sure you bring a towel to this one because you will sweat.   Learn more >>
Semi Private Training (2-6 people)
Share the cost of a trainer with semi-private group training.  Each training package includes body fat testing, measurements, nutrition discussion and assessments. Train with your personalized workout program that will be sure to get you amazing results.
Learn More...
Personal Training
Fully-customized training and personal attention to help you reach your fitness goals. Each training package includes body fat testing, measurements, nutrition discussion and assessments.
Learn More...
Shed to Wed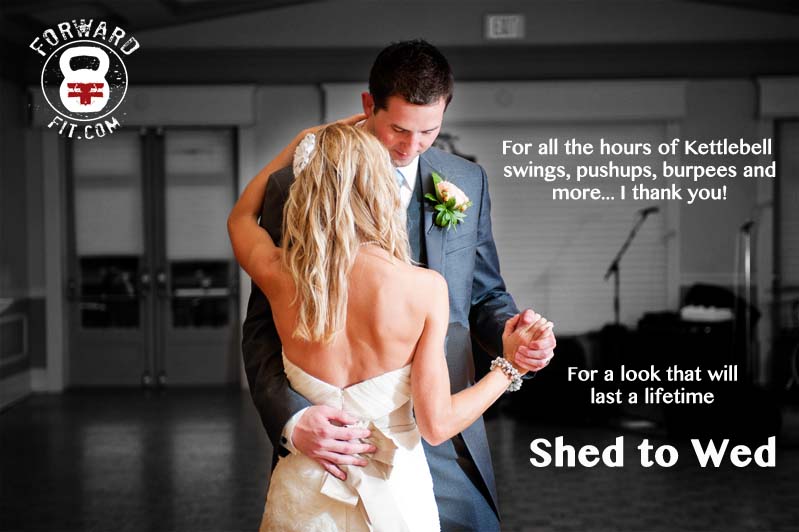 Our goal is to get you in the greatest shape of your life for the most memorable day of your life.
Contact us for more information.